For some patients, a tooth becomes so severely damaged from decay, that it cannot be restored with a filling because the area is too large. These cases are usually fixed with a dental crown. And if severe decay leads to tooth loss, there is another option to replace missing teeth when teeth exist on either side of the space—it's called a dental bridge. Crowns and bridges are offered at Drs. Dunkling and Penney's dental practice in
Jericho
and
Burlington.
Both crowns and bridges fit over the affected teeth. The teeth are prepared for the crown or bridge by being trimmed down so that the crown or bridge will fit. Your dental bridge or crown will reflect the size, shape, and look of a normal tooth, as well as give you full function for eating, smiling and talking. 
Dental Crowns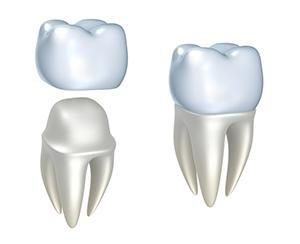 Dental crowns are also known as a "cap," which covers your damaged tooth. It is cemented in place and is a perfect replacement for your normal tooth. The cap is created with our CEREC technology, which makes the crown in office from a 3D imaging system. You will get your crown placed on the same day! CEREC crowns benefits include:
Hi-tech accuracy
Single-visit convenience
Natural tooth color
Metal free – no silver fillings
Exceptionally detailed for long-lasting, natural results
Preserves more healthy tooth material
A crown is needed for:
Replacing a large filling
Protecting a weak tooth from further chipping or breaking
Restoring a fractured/cracked tooth
Covering a poorly shaped tooth or a discolored tooth
To attach a dental bridge
To protect and restore a tooth that has had a root canal
To cover a dental implant
No matter what the reason, CEREC crowns are well worth it. Your tooth will be stronger and more stable, and will give a new smile for the better.
Dental Bridge
Missing a tooth or having a gap in your teeth can be stressful and can make you self-conscious. Talking and chewing can also be difficult. A dental bridge is an option to fix the gap. A dental bridge can help you by:
Restoring the ability to chew and speak properly
Maintaining the shape of your face
Distributing the forces in your bite to alleviate stress on other teeth
Prevent remaining teeth from shifting out of position and into the gap
A dental bridge actually "bridges" the gap where one or more teeth used to be. Bridges are cemented to your teeth adjacent to the unoccupied space. The adjacent teeth serve as anchors for the bridge. They are then trimmed down and capped with a crown, while a replacement tooth is attached to the crowns to form the bridge. It is then firmly cemented to your teeth.
Chewing and smiling will be simple again with these new dental appliances.
Contact our office today
to learn more about crowns and bridges or to schedule an appointment.
Are you a patient of Dunkling & Penney Dentistry? If so, we would love to hear about your experiences below!