My Blog
Posts for: April, 2018
By Dunkling & Penney Dentistry
April 15, 2018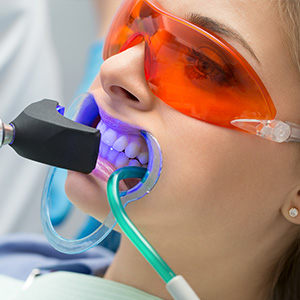 If you're ready to put the "pizzazz" back into your smile, your dentist may be able to help. It's possible your dull, dingy smile could be transformed with teeth whitening.
Teeth whitening or bleaching is a technique that applies a solution with a bleaching agent (usually up to 35% hydrogen peroxide in an office setting) to the teeth to whiten them. Although there are Do-It-Yourself home whitening kits you can use, there are a few good reasons why you should first consider a whitening procedure in a dental office setting.
To begin with, you should first have your teeth examined by a dentist to determine why they're discolored. Certain foods and beverages we consume or tobacco habits are the usual culprits causing stains on the enamel, the outermost tooth layer. These are the kinds of stains targeted by most whitening solutions.
But the interior of a tooth can also become discolored for reasons like trauma, past dental work or tetracycline use at an early age. If your staining is internal (intrinsic) rather than external (extrinsic) reducing that discoloration will require an invasive procedure only a dentist can perform—a home kit won't be able to do the job.
Another reason for having your teeth whitened by your dentist (even extrinsic staining) involves your time and the degree of brightness you'd like. Because dentists use stronger bleaching solutions (home kits usually use a weaker solution of 10% carbamide peroxide) it takes fewer sessions than home kits to achieve results—and they may last longer. In addition, dentists have more control over the level of brightness to match your expectations of a more subdued, natural look or a dazzling "Hollywood" smile.
A dentist can also help you navigate special circumstances like matching and managing natural teeth whiteness with dental restorations (which don't bleach) or special whitening situations like a single discolored tooth.
Even if you eventually decide to go the home kit route, consulting with a dentist first can still prove helpful. You'll get expert advice on products, tips on how to apply them and how to prolong the whitening effect. Whichever way you go, home kit or dentist, you can gain a brighter, more confident smile with teeth whitening.
If you would like more information on teeth whitening, please contact us or schedule an appointment for a consultation. You can also learn more about this topic by reading the Dear Doctor magazine article "Important Teeth Whitening Questions…Answered!"
By Dunkling & Penney Dentistry
April 04, 2018
No one wants to look in the mirror and see a dull, yellow smile. Unfortunately, stains on teeth are hard to avoid. Every time you sip a glass
of wine, enjoy a cup of coffee or even eat a handful of healthy blueberries, dark pigments from those foods and beverages become lodged in your tooth enamel. Fortunately, tooth whitening offers a simple, safe way to get rid of your dental stains. Burlington and Jericho, VT, dentists Drs. Paul Dunkling and Greg Penney of Dunkling and Penney Dentistry explain how whitening can brighten your smile.
Teeth whitening gets rid of tooth-darkening pigments
No matter how well or often you brush your teeth, you can't rid of the dark pigments foods and beverages leave behind. Pigments seep deep into microscopic pores in your tooth enamel and can't be reached by your toothbrush bristles. Although it's not possible to brush away those stain-causing pigments, they can be eliminated by applying a hydrogen peroxide whitening gel. The gel breaks apart the pigments, removing the stains.
It's all about the hydrogen peroxide
Hydrogen peroxide strength varies depending on whether you take advantage of professional whitening treatment or use over-the-counter products. Professional formulations dentists use are much stronger than those used in the products you'll find online or at a Burlington or Jericho drugstore. If you choose professional whitening, you enjoy these benefits:
Quick Results: Your teeth will be much whiter after just one professional whitening session, although occasionally a second session may be needed. Drugstore products can take weeks or months to lighten your teeth.
A Brighter Smile: After a one-hour professional whitening treatment, you can expect your teeth to lighten by three to eight shades.
A Safer Experience: Tooth sensitivity can be a problem after whitening, particularly if your teeth or gums accidentally come in contact with the hydrogen peroxide gel. When you opt for an in-office whitening treatment, your gums will be protected by a rubber shield or a layer of protective gel. Your cheeks and lips will also be held away from your teeth with comfortable plastic retractors.
Two Options: At-home whitening kits are also available from the dentist's office. The kits contain a supply of whitening gel and custom-made whitening trays.
Lighten your smile with teeth whitening! Call Burlington and Jericho, VT, dentists Drs. Paul Dunkling and Greg Penney of Dunkling and Penney Dentistry at (802) 863-3479 for the Burlington office and (802) 899-3973 for the Jericho office.