My Blog
Posts for: December, 2017
By Dunkling & Penney Dentistry
December 23, 2017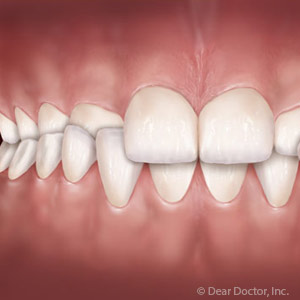 Poor bites, also known as "malocclusions," can have a dramatic impact on mouth function and appearance. Moving teeth to better positions will solve most of these bite problems — but not all.
A case in point is a malformed maxilla, the skeletal structure formed by the union of the upper jaw and the roof of the mouth (the palate). If the rear portion of the maxilla develops too narrowly, the back teeth will bite abnormally inside the lower teeth while the front teeth bite normally, creating what's known as a crossbite. People with this kind of malocclusion often shift their lower jaw to one side to bite down completely.
This can be corrected without too much intervention if the problem is diagnosed while the person is young. This is because the maxilla is actually formed from two bones that don't completely fuse together in the center of the palate until just after puberty. An orthodontic appliance known as a palatal expander takes advantage of this slight gap. The metal appliance is placed along the narrowed portion of the palate in the rear of the mouth: four metal "arms," two on each side, attach to the inside of the back teeth with a tension device between them that extends the arms outward to put pressure against the teeth.
Every day the patient or a parent uses a special key to turn the tension device and cause it to expand slightly, placing additional outward pressure on the jaw. This will widen the gap in the center of the palate and new bone will grow to fill in the increased space. Over time this will cause the rear portion of maxilla to widen.
While effective, a palatal expander may not work in every case, and it must be done before the two bones fuse permanently. When it can be used, though, it's a proven treatment that can restore proper bite function, as well as improve your child's smile.
If you would like more information on palatal expanders to correct certain bite problems, please contact us or schedule an appointment for a consultation. You can also learn more about this topic by reading the Dear Doctor magazine article "Palatal Expanders."
By Dunkling & Penney Dentistry
December 08, 2017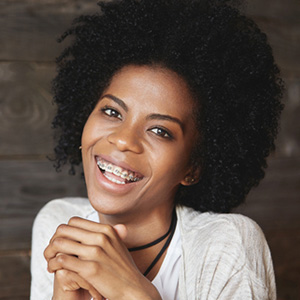 Wearing braces takes time, but if all goes well the changes to your smile will be well worth it. In the meantime, though, you'll have to contend with one particular difficulty—keeping your teeth clean of disease-causing, bacterial plaque.
Don't worry, though—while keeping dental disease at bay with braces can be challenging, it is doable. Here are 4 tips for minimizing your chances of tooth decay or periodontal (gum) disease during orthodontic treatment.
Eat less sugar. Like any living organism, bacteria must eat—and they're especially amenable to sugar. The more they have access to this favorite food source, the more they multiply—and the greater your risk of tooth decay or gum disease. Eating fewer sugary foods and snacks and more dental-friendly ones helps restrict bacteria populations in your mouth.
Brush thoroughly. Brushing with braces can be difficult, especially in areas blocked by orthodontic hardware. You need to be sure you brush all tooth and gum surfaces around your braces, including above and below the wire running through the brackets. A soft multi-tufted microline bristle brush is a good choice for getting into these hard to reach places. Brushing around braces takes more time, but it's essential for effective plaque removal.
Use flossing tools. Flossing is important for removing plaque from between teeth—but, unfortunately, it might be even more difficult to perform with braces than brushing. If using string floss proves too daunting consider using a floss threader or a similar device that might be easier to maneuver. You can also use a water irrigator, a hand-held device that sprays water under pressure to loosen and flush away between-teeth plaque.
Keep up regular dental visits. While you're seeing your orthodontist regularly for adjustments, you should also see your general dentist at least every six months or more. Besides dental cleaning, your dentist also monitors for signs of disease and can prescribe preventive measures like antibacterial mouth rinses. Of course, if you see abnormalities, like white spots on your teeth or red, puffy or bleeding gums, contact your dentist as soon as possible. The sooner a problem can be addressed the less impact it may have on your orthodontic treatment and overall oral health.
If you would like more information on caring for teeth and gums while wearing braces, please contact us or schedule an appointment for a consultation. You can also learn more about this topic by reading the Dear Doctor magazine article "Caring for Teeth During Orthodontic Treatment."