Looking for the answer to your tooth loss problems? Consider all that dental implants from your Jericho dentist can offer.
Whether you are dealing with just one or several missing teeth you have options. It's amazing how versatile dental implants can be for restoring your missing permanent teeth and they already have been a wonderful treatment option for countless patients. To find out just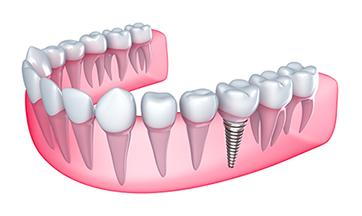 how adaptable dental implants can be, our Jericho, VT dentists Dr. Paul Dunkling and Dr. Greg Penney are here to tell you more about your smile could benefit from implants.
A Single Missing Tooth
Even just losing one tooth can cause a host of problems for your smile, from a deteriorating jawbone to structural changes in the face. To prevent these problems from happening it's important that you treat your tooth loss as soon as possible. Because the implant is biocompatible, it actually melds together with bone and tissue to become a permanent structure from which to hold a dental crown. Plus, the implant is designed to last many decades so you can enjoy a tooth that is stable, strong, looks natural and can improve both chewing and speaking.
Several Missing Teeth
Dental implants are also a great option for those who need to replace multiple teeth. Of course, the type of restoration we use will depend on which teeth are missing. If missing teeth are next to each other we can place more than one implant to hold a partial denture into place. Fortunately, whatever prosthetic we choose, a dental implant can certainly hold it firmly in place.
Supporting Dentures
Many patients shy away from dentures because they can slip around in your mouth, making it embarrassing to go out to dinner or to talk to coworkers. But when you get denture-supported implants your dentures won't be going anywhere! Multiple implants are embedded into the jawbone to anchor a full set of dentures to turn total tooth loss into a total tooth gain.
Tooth loss doesn't have to affect your quality of life. Turn to the dental implants experts at Dunkling and Penney Dentistry in Jericho, VT to schedule your initial consultation and find out if implants are right for you.